壁用耐熱塗料と壁用断熱塗料の塗布手順KERACOOL COAT
KERA Cool Coat is heat resistant and insulation paint for walls researched and developed by APT. Paint is known with good heat resistant ability with empty Ceramic particles. KERA Cool Coat is not only used in public areas and house but also used in factory areas in industrial zones.
Why should use heat resistant paint for wall KERA Cool Coat?
Sunlight is direct cause to increase concrete surface and room temperature. Especially in peak hot season, wall temperature can rise to 60 – 70°C, making living and working atmosphere becomes stuffy, affects to physical and mental health of people. So heat resistant paint KERA Cool Coat is a perfect choice, one of the most effective solutions for wall surface to save cost and insulate heat.
With component are Ceramic particles which have high heat reflection, heat resistant paint for wall KERA Cool Coat helps wall surface adapts to hot weather in a long time. Temperature reduces from 60°C to 25°C, helping living and working space becomes fresh, comfortable and pleasant.
In addition, KERA Cool Coat has other 5 outstanding features:
Good resistant to bacteria and mildew.

Resistant to UV in the sunlight.

Reduce noise for metal roof when rainy.

High elasticity and adhesion.

Attractive colors.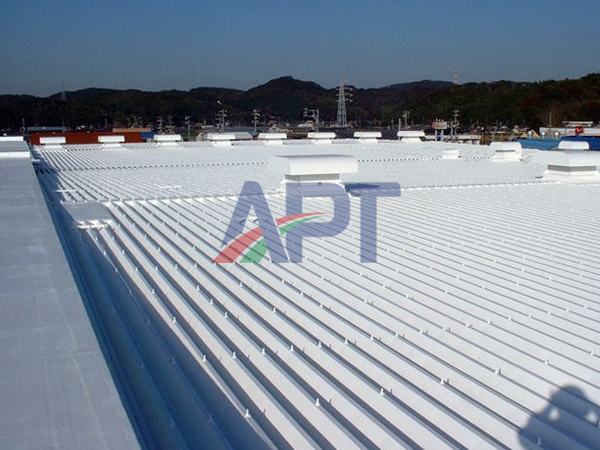 Application steps of heat resistant paint for wall KERA Cool Coat
KERA Cool Coat is applied with 4 steps. Paint has low VOC content, odorless, friendly with environment and easy to apply.
Step 1: Paint should be applied in the surface is free of oil, dirt, weak layer. Dirt must be cleaned by chemical or mechanical preparation such as Shot Blasting, Sand Blasting and Surface Scabbling.

Step 2: Apply APT's waterproofing primer. Should use waterproofing primer before apply KERA Cool Coat.

Step 3: Apply heat resistant paint for wall KERA Cool Coat basecoat.
Notes: Should add 5% clean water.
Step 4: Apply heat resistant paint for wall KERA Cool Coat topcoat.
Finish topcoat time is after 4 hours.
For application by airless spray: a single line piston pump, 0.015 inch tungsten nozzle tip with a 20:1 ratio. Spray 2 times in perpendicular direction to help paint membrane has no pinholes.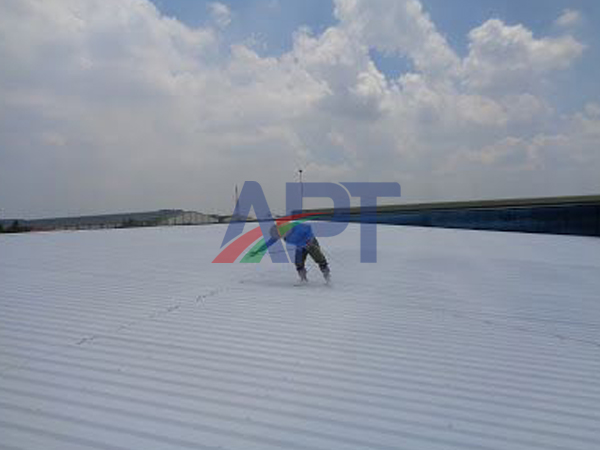 Notes before apply heat resistant paint for wall KERA Cool Coat
Conditions about wall surface (concrete surface)
With new concrete surface:
Concrete wall construction must be maintained at least 10 days to neutralize alkaline and release moisture residue.
With old concrete surface:
Substrate moisture content < 15%.

Temperature of construction area > 15°C.

Substrate temperature at least 3°C above dew point.

Remove old coating on the surface, clean by clean water and let it dries.
Conditions of weather before application:
Do not apply when rain is expected and temperature is lower than 15°C within 48 hours.

Do not apply if air humidity > 80% or has ability to reach 80% within 24 hours after application.

Applying material in well-ventilated area.

The weather is not rainy and does not have strong wind.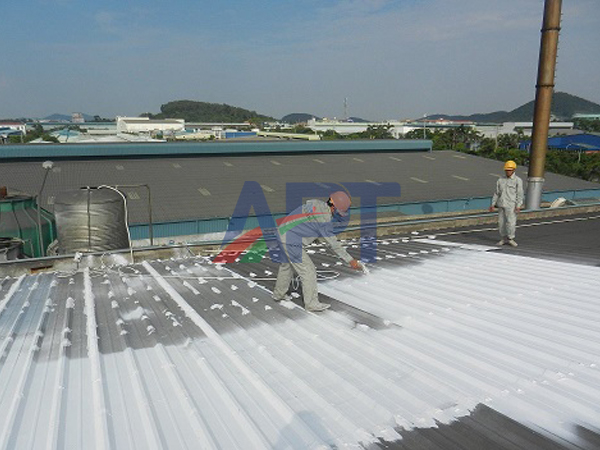 Where should buy heat resistant paint for wall KERA Cool Coat with good price?
APT is direct manufacturer of KERA Cool Coat. When purchase product in APT, you will get:
Purchase heat resistant paint for metal roof with good price.

New product, 100% genuine from the manufacturer.

Support in finding reputable and quality construction units with reasonable price.

Technical support with projects in industrial zones.
For advice & purchase, please contact APT at Tel 0904 339 299!