9 advantages of APT's epoxy paint
Known as the most comprehensive solution for concrete surface, APT's epoxy paint has been present in thousand projects from industrial to commercial such as factories, trade center, basement, hospital… Beside high antibacterial, epoxy paint also provides a finishing coating with many advantages.
1. Good ability of cover defect on concrete floor surface
Weak concrete surface, airholes or cracks on the surface are all coverd by epoxy resin. Coating system is designed and includes 3 layers: 1 primer and 2 coatings. Depend on surface floor and product quality; we will consult coating thickness which is suitable for you. Finishing surface has no joint, smooth and good antibacteria.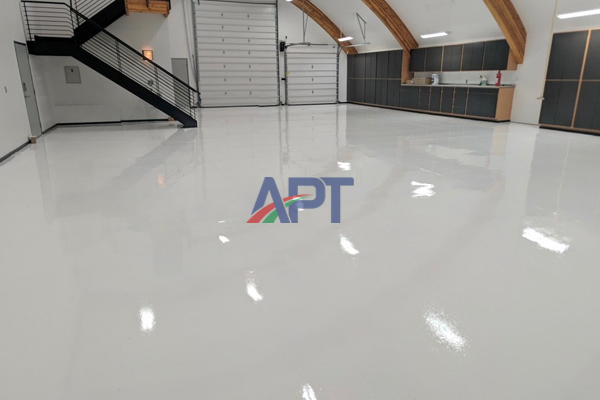 2. Cost effectiveness
Epoxy paint is reasonable choice compare to title floor, wood floor. Due to saving cost, you can completely apply epoxy paint in a short time. Moreover, for old title floor, you can apply epoxy paint immediately on the surface without wasting cost to remove actual title floor.
Using APT epoxy paint is a valuable investment for you. Typical epoxy floor life is 3 – 5 years. But with good care and maintenance, floor can be used longer life and effective on cost.
3. Good chemical and heat resistance
With criteria of diversify products, as well as diversify customer demand, APT researched and developed good chemical resistance product system. Paint has many types, resistant to chemical in both immersion and dropping. High application, suitable for floor areas, tanks, iron and steel surface…
Some APT paint products can resistant to heat, appropriate for harsh areas, often exposed to chemical, high temperature water such as production area at food and beverage factories.
4. High impact resistance
This is a proof to the flexible and durability of APT epoxy resin. The impact which you often worry about, such as heavy objects falling to floor or the amortization of of running car on the surface, it will create less harmful for epoxy coating.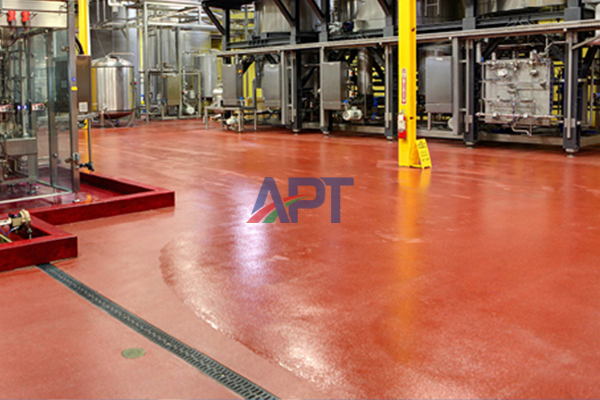 5. Easy to maintain and clean
Another advantage of epoxy paint is easy to maintain and clean. By apply APT epoxy paint, concrete can reduce duts and cement particles spreading to the surfaces. Even bacteria, dirt and other impurities do not adhere to epoxy, so it is an effective and cleaning coating.
You can easy to clean by wet towel or cleansers without make floor dull-colored.
6. Increase display ability
Apply APT epoxy floor paint helps to increase visibility on spaces. Surface reflects the light of the lamp, illuminating the entire workspaces. Especially, APT's self-leveling epoxy paints (KERASEAL ADO40) have strong shine, thay create bright spaces and for commercial areas such as showrooms, car dealerships, gyms…
7. Area hierarchy
In factories, clear hierarchy is necessary for workers to move and operate easily. Meanwhile, the types of tile, wooden and vinyl floors do not meet this.
With advantage of diversify colors, APT epoxy paint can completely help you to divide areas, divide alley and dangerous warning. In some gyms, besides using epoxy paint to mark badmintion, basketball courts… paint is also used to decor, make aesthetics for the floor. This helps the space become new and excite sportsman spirit.
8. Not damage to tires
In garages, basements, car repair shops, concrete can cause tire abrasion. Meanwhile, the smoothness of APT epoxy paint will make little to no reaction from your tires. Paint keeps the car and tire in the best condition on the surface. Besides, with good chemical resistance, APT epoxy floor becomes the perfect place to change oil without worrying about dirts.
9. Environmentally friendly
Although is a chemical compound, but epoxy is an environmentally friendly choice because it requires few materials and does not require constant replacement. Some solvent-free products such as KERASEAL ADO121 or completely odorless water-based paint which can be applied in poorly ventilated environment, meeting the most stringent standards of green projects.
If you are looking for quality and saving cost flooring option, APT is the best choice. For advice and direct quotation, please contact APT at phone number 0904 339 299!