Address to buy epoxy paint in Long An with the best price
You are in Long An and you want to buy epoxy paint with the best price? Let APT helps you to find out places where sell epoxy paint in Long An in the article below!
APT is known to be one of the diversified research and production units of epoxy coating in the market from water-based epoxy paint, solvent-based epoxy paint to highly specialized products such as chemical resistant epoxy paint, anti-static epoxy paint. Paint is chosen and used for many projects in Long An.
Why should use APT's epoxy paint for factories in Long An?
Good concrete surface protection ability with advantages such as:
High aesthetics: With good adhesion ability, epoxy resin create smooth surface more than normally paints. Paint has thickness from 1-4mm.

Good wear and abrasion resistant: Overcome weakness such as scratches and cracks of concrete floor, epoxy paint has abrasions resistant ability up to 65 mg/m2. Wear resistant up to 64 kg/cm2.

High antibacterial ability: Non circuit surface makes cleaning oil and grease easier.

High lifespan, saving maintenance costs: Paint has good adhesion ability. Especially, with self-leveling paint, thick and wear resistant coating helps the floor be long-lasting and beautiful. Average lifespan from 5-7 years. Fast maintenance, not too much cost.
Consulting and technical support during application: With desire to bring the most durable and beautiful coating for each projects, APT is ready to consult and support technical. Especially, support on-site with construction projects requiring high technical standards in Long An.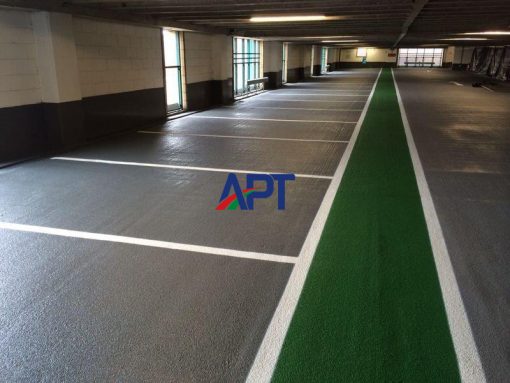 APT's epoxy paint lines in Long An
Solvent-based epoxy paint.

Water-based epoxy paint.

Anti-static epoxy paint.

Chemical resistant epoxy paint.
How to buy genuine APT epoxy paint in Long An with the best price?
On the market nowadays, APT is presented in many provinces, distribute to many paint agencies. But in order to buy at a good price, customers can contact us - the manufacturer directly. In particular, support to find reputable and quality construction units with preferential prices.
To buy epoxy paint in Long An please contact immediately 0904 339 299 for advice on suitable coating products for customer project.