Address to buy quality heat resistant paint for metal roof
Nowadays, the use or metal roof is very popular. They are not only used for civil projects such as house, parking… but also for factories in industrial zones. But the reality shows that during period of use, metal roof is easy to degrade due to effect of hot weather. In addition, extended hot weather affects surface of metal roof, making living and working space become stuffy. Therefore, on the market today, there are many solutions to heat resistant. And heat resistant paint is considered as the most optimal solution. So what are their advantages? What is the best place to buy heat resistant paint for metal roof? All will be shared in the article below!
Advantages of heat resistant paint for metal roof
Heat resistant ability: Like many other heat resistant solutions, the heat resistant paint for metal roof has high heat reflectivity, the ability to reduce the temperature of roof to 25°C, release heat, cool, prevent heat…

Construction process: Product is easy to apply. If the metal roof is old, the constructor should clean the surface, handle stains and rust. After that, using short hair roller or airless spray to apply anti-rust primer before applying heat resistant paint.

Aesthetics: If the heat resistant panel only has PVC plastic, white color, heat resistant paint has many colors to choose. The smooth glossy coating as a catalyst helps the surface of metal roof reflect the negative effects of sunlight.

Safety: The paint is non-flammable, non-toxic, does not contain lead and mercury and other harmful chemicals, safe for people and the surrounding environment.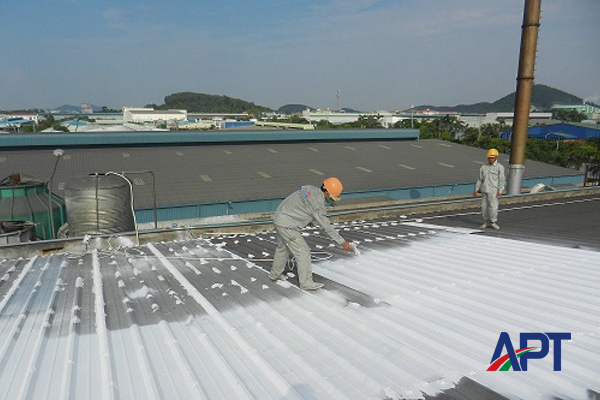 Reputable heat resistant paint for metal roof
KERA COOL COAT is a product which researched and developed by APT. The paint is created by water-based elastomeric acrylic with Ceramic technology. Product is used in many households, public works and many factory projects in industrial zones with outstanding features such as:
High heat reflectivity, low coefficient of thermal conductivity, effective heat resistance.

Good UV resistance, minimizing the negative effects of sunlight to metal roof.

Paint film adhesion well on many materials such as metal, brick walls, concrete, wood, plastic… High elasticity ability. Heat resistant paint can be used for both metal roof and vertical wall areas.

The color is fresh, diversified and high aesthetics.

Low VOC organic content helps construction process less odor, friendly with surrounding environment.
Specially, the roof coating can reduce noise for the roof when it rains. KERA COOL COAT can adapt to high mold environment. Good water proof and anti-rust ability.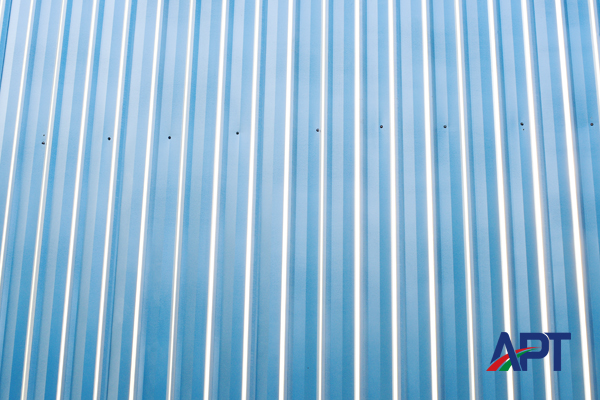 Where should customer buy KERA COOL COAT to have the best price?
APT is the official manufacturer of heat resistant paint KERA COOL COAT. When purchasing from APT, customer will receive:
Buy paint with the best price.

Commitment to quality of product.

100% genuine product from the manufacturer.

Consulting at works, factories.

Instruction for application and handling problems on the surface of old concrete and metal roof.

Support to contact with reputable and quality construction units with reasonable price.
We are always ready to serve customers. For advice and purchase heat resistant paint for metal roof, please contact us at 0904 339 299!