APT's water-based epoxy paint - Moisture resistant 12 – 18%
Concrete floor surface after construction is strong but if floor does not have moisture resistant nylon, the water that accumulates below the floor will be pushed to the surface. If using normal epoxy paint, the moisture will be blocked by resin surface that causing blistering. Without high moisture resistant ability, the surface is attacked easily by moisture, seriously affecting to floor and costly to repair. It can be seen that demand about water-based coating system with high moisture resistance is necessary for projects and factories, especially areas where floors and walls are easy to moisture and high humidity.
Why do many factories choose APT's water-based epoxy paint?
APT's water-based epoxy paint has moisture resistant ability up to 12 – 18%, an impressive number for water-based epoxy paint. Water-based epoxy membrane helps moisture to escape, allow the concrete surface to breath. During construction, with high moisture resistance, water-base epoxy paint can be applied on freshly poured concrete (about 10 days), suitable for projects that require urgent construction in a short time.
Product has satisfied many investors. KERASEAL WB10 is present at many big projects such as COCA COLA Vietnam, Masan Food Factory, Saigon – Hanoi Brewery…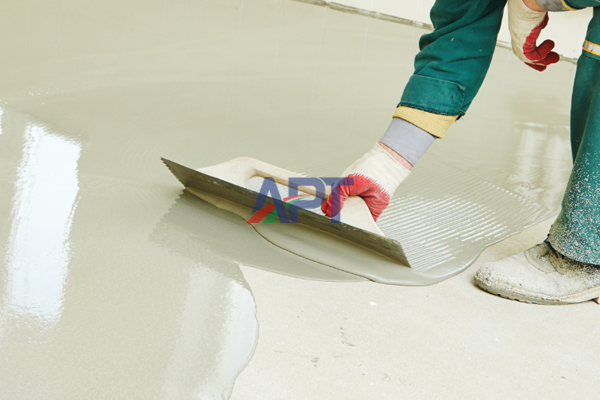 APT's water-based epoxy product chain
Water-base epoxy paint KERASEAL WB10 – KERASEAL WB10 is two component water-based epoxy system, allow concrete to breath, it used in high moisture areas up to 18%. With low VOC content, paint meets green requirement of project; less odor to facilitate maintenance and repair work. Hard and semi-gloss surface helps to hide defects for concrete.
Water-based epoxy paint KERASEAL WB20 – KERASEAL WB20 is water-based epoxy coating system has smooth finish, is designed to provide protection to new or old floors in medium to heavy duty applications. KERASEAL WB20 has outstanding features such as easy to apply, good adhesion due to its compatibility with concrete surface, non-combustible due to water base of material, so it is very safe when apply as well as used in factories. Paint can withstand humidity <12%, helps customer to shorten construction schedule when it can be applied on newly poured concrete (16 days).
Water-based epoxy paint KERASEAL WB40 – KERASEAL WB40 is self-leveling water-based epoxy coating system, with semi-gloss finish helps concrete surface to hide defects. The paint is designed to apply on wet surface up to 18%. Besides being applied for food and beverage production, pharmaceutical, cleanroom, paint is also used for electronic components manufacturer, precision engineering manufacture and heavy industry.
Construction steps of APT's water-based epoxy paint
To help customer use water-based paint in the most effective way, APT gave the detailed construction process for each product. Here is the basic construction process of water-based epoxy paint:
· Step 1: Cleaning the concrete surface
There is much dirt, greases on the surface need to be cleaned before construction. Using specialized grinder to create roughness, then using vacuum cleaner to clean it completely.
· Step 2: Repairing the surface
Using non-sag epoxy glue KERACRETE NS50 to fill cracks and defects on the surface.
· Step 3: Applying primer KERASEAL WB50
Using short hair roller to spread KERASEAL WB50 on the clean surface. Apply in 2 perpendicular directions to ensure homogeneous coverage on the surface. Avoid applying primer too thick or create puddles that will cause peeling of the surface.
· Step 4: Applying the basecoat
Using short hair roller to apply the basecoat, applies in many times and in 2 perpendicular directions to ensure homogeneous coverage on the surface.
· Step 5: Applying the topcoat
After the basecoat is completely dry, the remaining cracks should be covered by KERACRETE NS50. To have achieved a homogeneous color for the topcoat, after the patching layer dries, use a sander to create roughness and remove impurities. Finally, applying the topcoat by short hair roller, ensure the homogeneous about coverage and color.
Notes: Water-based epoxy paint is a paint line that requires technique so the constructor needs experience to achieve the best effect during construction.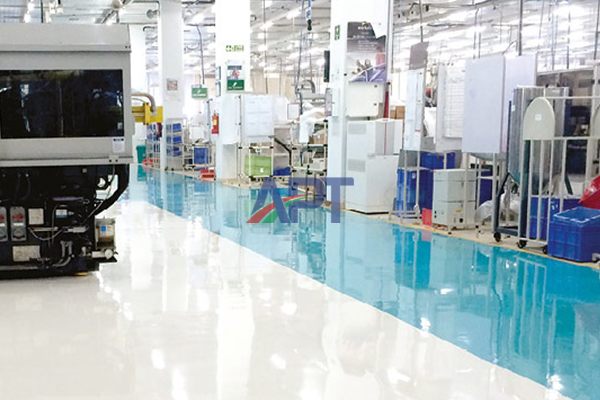 APT is always proud to be one of the leading enterprises in water-based epoxy paint production technology. With high moisture resistance, less odor and low VOC content, water-based paint is certainly satisfies the customer. Contact at Tel 0904 339 299 for the fastest quote and advice!