How to choose the right chemical resistant paint for factory concrete floors?
Chemical resistant epoxy paint is a type of paint used quite commonly in factories, laboratories, wastewater treatment areas ... places often in contact with industrial chemicals. But in reality, they have many different types. And if customers do not know about this paint, the factory is very easy to choose the wrong paint and use it for the wrong purpose. So, how many chemical resistant paints are there on the market? How does the factory choose the right paint? Let find out with APT in the article below!
Classify chemical resistant paints on the market
Chemical resistant paints are divided into 4 types include:
Epoxy tar coating system (ADG70): Low solvent content. They are used for the protection of concrete and steel surfaces. Especially with surfaces are often wet.

Chemical resistant 2-component epoxy coating system (ADG220): Can be used as a coating on epoxy mortar, as a surface repair layer, has extremely good antibacterial.

Novolac epoxy coating system: A paint resistant to many chemicals. Excellent wear and abrasion resistance.

Vinyl Ester FRP epoxy coating system (VR300, VR100): Have form from vinyl ester reinforced with glass cotton fabric so it has corrosion resistant ability to against many acids, alkalis, creating an absolute safety surface.

Acid-resistant mortar system (TAG 30, TAG 50): Has very high adhesion; acid corrosion resistance for tile, concrete surfaces and resistant to many chemicals.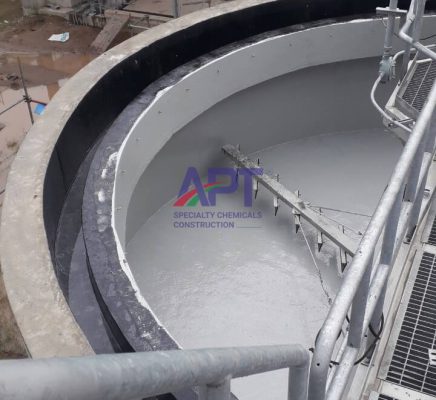 So how does the factory choose the most suitable chemical resistant paint?
Consider places need to use: Chemical resistant paints are divided into several types and used in many different locations in the factory. So, customers must find out where they need to use chemical resistant paints? Such as in laboratories, chemical warehouses or wastewater treatment tanks.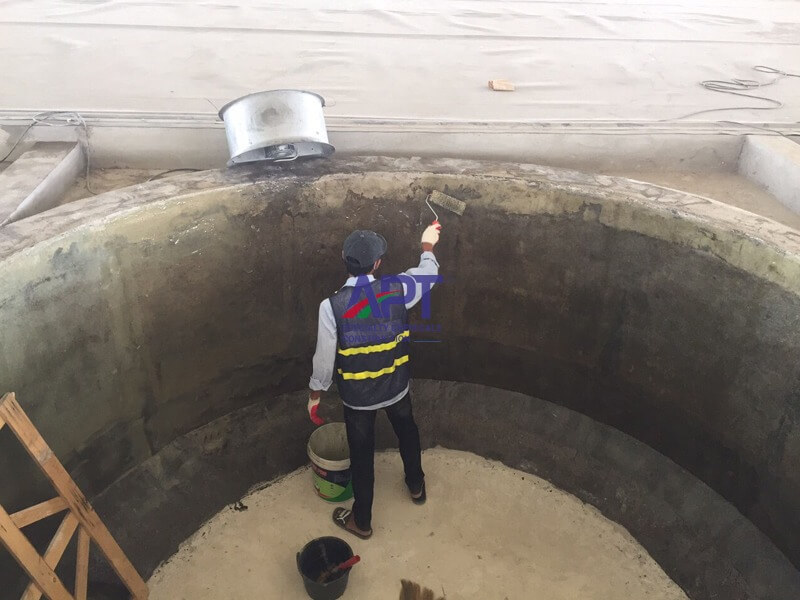 Consider paint characteristics:
If customers want to use it for areas like wastewater treatment systems, they should use epoxy tar coating system because of its good quality and reasonable price.

If customers want to ensure hygienic, increase antibacterial for the laboratory area, they should use chemical resistant 2-component epoxy coating system.

If there is a high concentration chemical in storage tank area, customer should choose vinyl ester epoxy coating system.

If customers intend to apply epoxy paint for concrete floor of chemical resistant factor, they should choose novolac coating systems because they have a much higher wear resistance than other chemical resistant paints.
Thus, it can be seen that there are many types of chemical resistant paints. And choosing a suitable paint for customer needs is not easy, requiring them to have a dedicated team of consultants, understanding the requirements of each specific project.
With 10 years of operation in the field of industrial floor paint, APT is the top brand for customer to choose. We have satisfied many investors, construction contractors and thousands of successful construction projects with the best chemical resistant paints on the market. For free advice & support, please contact 0904 339 299 right away!