How to make your warehouse floor look cleaner and easy to clean?
According to a research implemented by Staples Corporation, 94% of workers said they feel more productive in a clean work environment. 77% said that they feel they can create a higher quality of work. Clean is an important factor that motivates workers work more actively. So, do not forget to clean working area, especially the warehouse floor area – where it has a large flow of people and vehicles. How to make your warehouse floor look clean and hygienic? Let's pocket the following 6 experiences with APT!
Always clean the soil, dust and debris on warehouse floor
Warehouse is a place that has a lot of dirt and debris. Large debris can cause worker to slip while moving. Dirt and debris on floor must be cleaned regularly. Use specialized cleansers to clean the floor surface.
Empowering for warehouse managers
If employees have responsibility in cleaning up the mess they create, the cleaning will less at the end of the workday.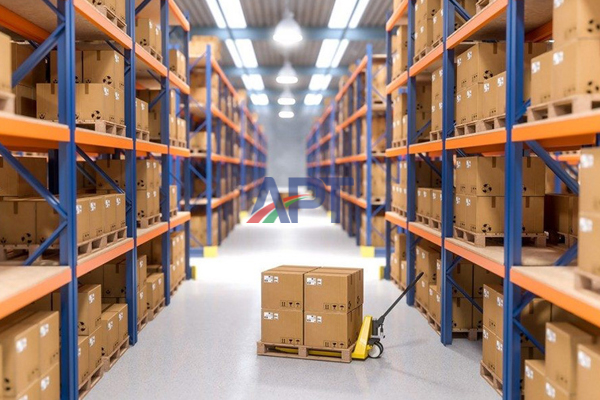 Choosing suitable cleansers
Chemical has good washing ability, but different applicable depend on types of floor surface. You need to consider about components of cleanser. They are concerned not only with warehouse floor but also with the health and safety of workers. If chemical makes the floor too slippery or it has toxic components it can cause breathing problem.
Using gloves during cleaning process for warehouse floor
Many floor cleaning solutions has high concentration and are not good for skin and body. In order to ensure safety when handling with cleansers, you should use gloves.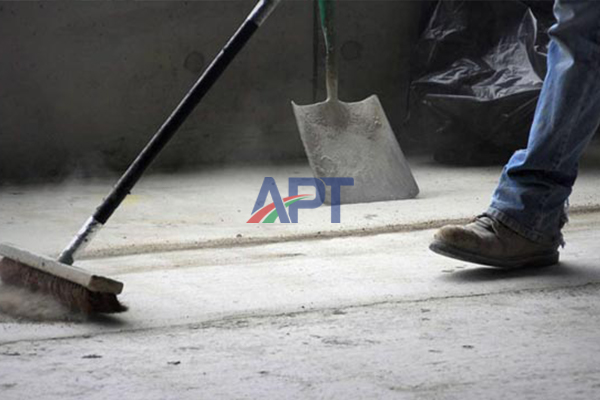 Improving equipment in the warehouse
A forklift has a damaged lifting system can cause cracks in the foundation. So, make sure that equipment in the warehouse is always maintained and improved, ensuring the best during use.
Using epoxy coating on warehouse floor
Besides tidying up, using cleanser, minimizing waste…, businesses need to choose a coating to protect floor surface.
Epoxy paint is an optimal and saving cost solution chosen by many buisnesses. With epoxy resin and hardener, paint creates thick coating that makes the surface smooth, without joints and easy to clean. Good wear and abrasion resistant ability. Increase concrete floor life from 3-5 years. Low maintenance and repairing cost.
Some APT epoxy paints are suitable for warehouse floor
KERASEAL ADO121 is two component solvent and phenol free coating system. It has been designed to provide protection in light to medium duty application.
Gloss and smooth finishing.

High bacteria resistance.

Easy to apply.

Good use for iron and steel surface.

Withstand the traction of shaping tape.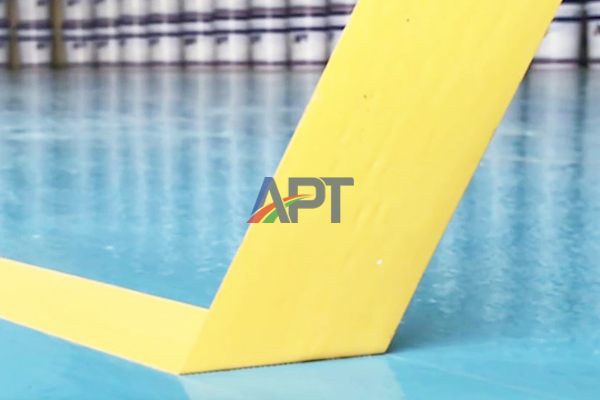 KERASEAL ADO20 is two component sovent-based phenols, epoxy resin floor system. It is available no circuit and good general chemical resistance.
Good bacteria resistance.

General chemical resistance.

Gloss finish.

High economical.

Attractive color.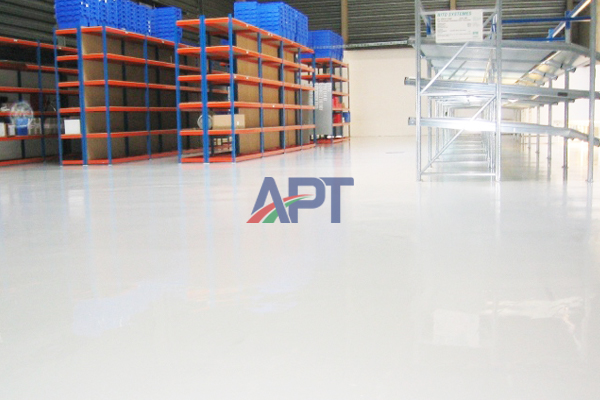 KERASEAL ADO30 is self leveling epoxy resin system. It is designed for new or old concrete surface in light to medium duty applications.
Excellent wear and abrasion resistance.

Good bacteria resistance.

General chemical resistance.

Gloss finishing.

High self leveling.
Address to buy epoxy paint for warehouse with good price and high quality
APT Vietnam is direct manufacturer of epoxy floor paint product. We have been providing products for many projects in the market with competitive price. When you buy directly from our factory, you will get:
On-site support & advice to choose suitable and cost-effective solution.

Delivery with a full range of products according to designed system.

Technical support to facilitate the construction work.

Follow the project progress during construction.
For advice & direct quotation, please contact APT Vietnam at Tel 0904 339 299!