The construction process of APT's lined epoxy paint
Lined epoxy paint is widely applied in factories in industrial zones. Paint is used for much different purpose such as separating production areas, warning areas, walkways… The variety of colors of epoxy paint is a plus point to help factory has have a vivid and clear description when separate areas.
Why should use APT's lined epoxy paint?
Besides specialized products in industry such as floor paint, heat resistant paint, APT also researched and manufactured lined epoxy paint for factory. Product meets the demand of factories and received highly appreciated for its advantages such as:
Good abrasion and impact resistance: With an epoxy resin composition, associated by stable molecules, APT's lined epoxy paint shows the toughness and high impact resistace. The impact of heavy objects to floor, or the frequent movement of trolleys will have little effect on the quality of line.

High stability: If the shaped tape can be used in short time and does not fully describe all special warning areas, APT's lined paint has shelf life from 3 – 5 years.

Attractive colors: Lined paint has many choices with all colors such as red, black, yellow… Color is durable and not easy to change over time.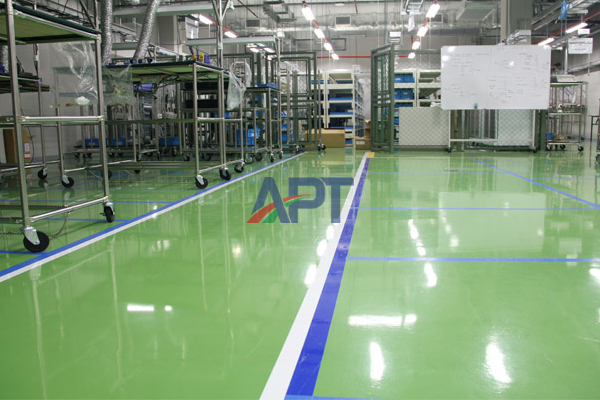 Lined paint locations in factory
Goods area limit line: is dividing line between goods area and pedestrian and forklift area.

Lane dividing line: dividing lane for vehicles traveling on production activities.

Directional arrow: is used to indicate direction for vehicles and pedestrian in factory.

Stop line: vehicles and pedestrian must stop before stop line.

Drawing paint: like feet, forklifts, forbidden pictures, warning pictures…

Number, letter paint: to guide and warning areas in factory.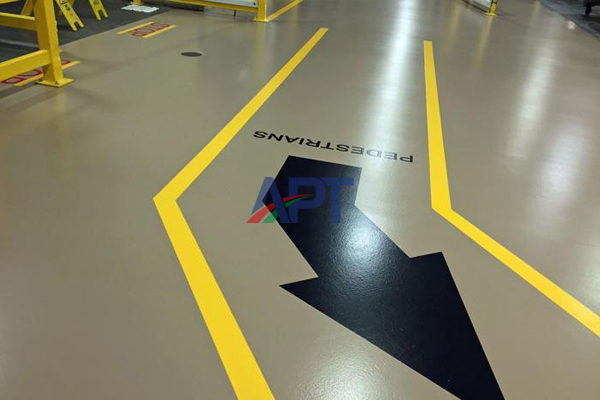 Construction process of APT's lined epoxy paint
Step 1: Cleaning the surface with specialized vacuum cleaner.

Step 2: Take the line mark.

Step 3: Create roughness with specialized machinery.

Step 4: Using tape to fix the position.

Step 5: Applying primer, increase adhesion ability

Step 6: Applying 2 layers of epoxy paint.
Address to buy pretigious and quality APT's lined epoxy paint
APT Vietnam is direct manufacturer for epoxy floor paint products. We have been provided lined epoxy paint for many projects on the market with competitive price. When you buy directly from our factory, you will get:
Support & advice to choose suitable solution, saving cost.

Deliver with full range of products due to designed system.

Technical support to facilitate the construction work.

Follow up the progress of the project during construction.
To advice and direct quotation, please contact to APT at Tel 0904 339 299!