Things you don't know about the benefits of KERASEAL ADO121 for warehouse floor
Using detergrents and cleaning regularly is the way many factories choose to clean their warehouses. But did you know that cleaning regularly still cannot prevent bacteria in this area, because cracks on the concrete floor are great hiding place for grease and dirt. Besides, the impact of forklifts also causes the surface to abrade over time. To overcome this situation, many factories choose epoxy paint KERASEAL ADO121 for surface protection.
What is KERASEAL ADO121?
KERASEAL ADO121 is a product researched and developed by APT with solvent-free component. Low VOC content, odorless, easy to apply for poorly ventilated environment. Paint has high applicability in many parts of industry and commerce.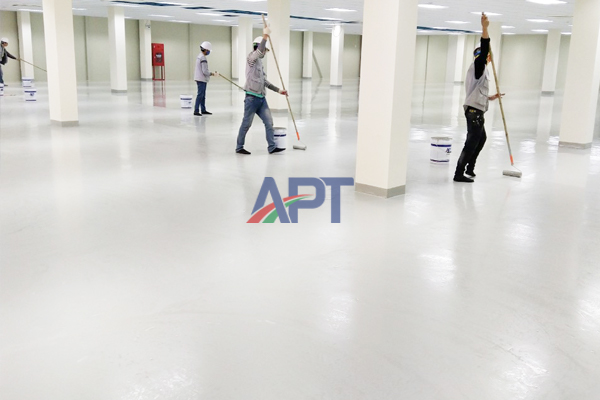 Benefits of KERASEAL ADO121 for warehouse floor
Increase aesthetics: Although the warehouse area does not need an eye-catching design but in order to make walkway and the warning area clear, factory still needs a colorful covering materia. This is an advantage of epoxy paint products compared to current types of tile floor and hardened floor. KERASEAL ADO121 will give you many color choices. You can use different colors to identify specific areas in your warehouse, such as forklift traffic zone, working area and safety area. Besides, a clean and beautiful warehouse area creates professionalism and increase excitement for worker during work process.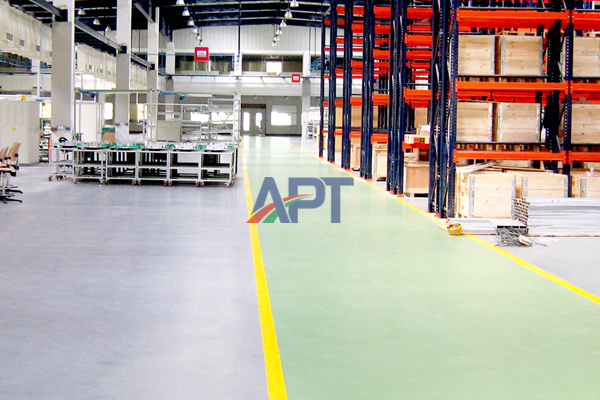 Easy maintainance: The surface after construction has no circuit, less dirty and easy to clean. Maximum prevent the impact of bacteria hiding in the cracks of old concrete surface.

Increase concrete floor durability: KERASEAL ADO121 helps concrete surface withstand high-intensity traffic of people and forklifts. Proctective coating help concrete floor to resist corrosion from production chemicals, especially for food production – which are often affected the impact of chemical and grease.

Increase labor productivity: Allow faster inventory movement, decrease machine breakdowns along with employee downtime.

Improve safety: Beside collecting inventory and damaging equipment, concrete dust also causes real health risk for employee. Apply a epoxy paint coating to your concrete floor will prevent cling dust for concrete floor, leading the decomposition of the porous concrete floor surface.

Environmentally friendly: With solvent-free component, odorless, KERASEAL ADO121 provides an environmentally friendly solution for protecting concrete floor. Paint can be applied in poorly ventilated warehouse.

Minimize business disruption: KERASEAL ADO121 is applied in 2 – 3 working days. This helps factory not have to stop business for a long time. After 24 hours application, the factory can completely continue business operation.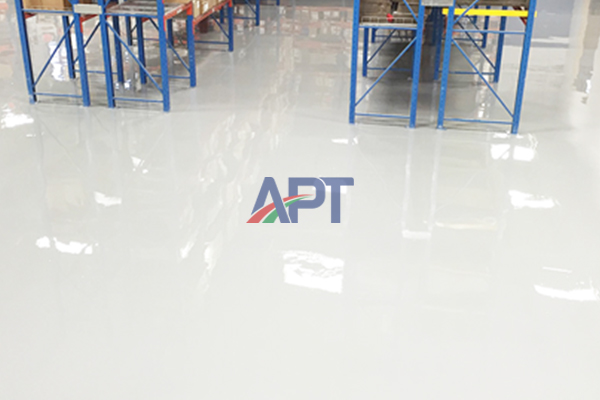 Is the process of applying KERASEAL ADO121 difficult?
Like normal epoxy paint, KERASEAL ADO121 is easy to apply. The product is designed with 3 coatings including:
The primer KERASEAL PS60.

The basecoat KERASEAL ADO121.

The topcoat KERASEAL ADO121.
Notes: With cracks and pits of concete surface, they need to be carefully prepared by grinding and sanding. Using KERACRETE NS50 to seal cracks, helping to increase flatness and adhesion to the surface.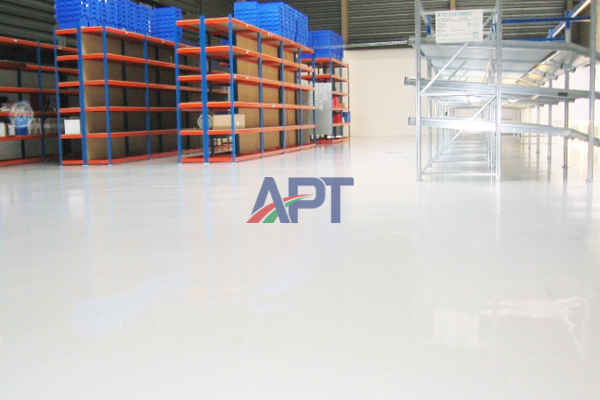 Compare KERASEAL ADO121 with normal epoxy paint
No

Normal epoxy paint

KERASEAL ADO121

1

Component contains solvent

Solvent-free component

2

Pain peeling off when pulling shaping tape

Do not peeling off the paint membrane when pulling shaping tape

3

Coating membrane creates even color

The surface is hard, clear and highly aesthetics

4

Good wear and corrosion resistance

Withstand medium duty application

Very good wear and corrosion resistance

Withstand greater duty application

5

Odor when applying in poorly ventilated areas such as basement, warehouse, parking lots…

Odorless when applying in poorly ventilated areas

6

General chemical resistance

Chemical resistance and easy to clean
Address to buy KERASEAL ADO121 at good price and high quality
APT Vietnam is a direct manufacturer of KERASEAL ADO121 epoxy floor paint products. We have been providing products for many projects on the market at competitive prices. When purchasing directly from our factory, you will receive:
On-site support & consulting to choose suitable, cost-effective solutions

Commitment to new products, complete delivery according to the designed system

Technical advice to help construction work can proceed smoothly

Follow closely the progress of the project during construction
For direct advice & quotes, please contact APT Vietnam at phone number 0904 339 299!