What impact does epoxy floor have for working space of factory?
In manufacturing factory, floor is an area that occupies a lot of space and affects the working space of factory. Therefore, the selection of paint product not only meets the demand of factory, but also helps to make working environment becomes better for workers. Epoxy floor paint is a product like that. So what impact does epoxy floor have for working space of factory? Let's find out with APT in this article below!
Epoxy floor enhances aesthetics for factory
Nowadays, with strict requirement about production process and hygiene standards, factories increasingly focus on enhance aesthetics for floor surface. Because floor is a place in direct contact with many types of machinery, it is easily damaged and difficult to clean. Meanwhile, epoxy paint brings no connection circuit, smooth, easy to clean surfacec finish, increase concrete floor life from 3 – 5 years.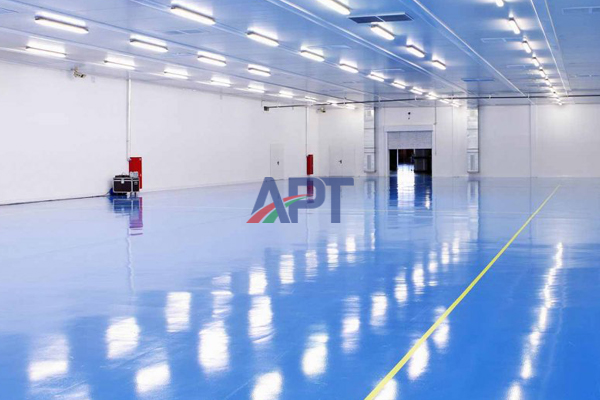 Enhance employee work spirit
For employee working in manufacturing factory, a bright workspace can increase work spirit as well as their productivity. With attractive color system, epoxy paint is a perfect choice; bring a fresh feeling for workspace. Besides, harmonious combination between floor and wall color will excite creativity in the work of employee.
Epoxy floor creates safety working environment
The constant flow of people and moving machine is a cause of industrial accident. In a working environment such as manufacturing factory, safety is always a top priority. Therefore, it is necessary to require anti-slip material used for the floor. If the floor is not anti-slip, it is easy to make workers slip and fall during work. To minimize this problem, epoxy paint is applied with quartz sand, good anti-slip ability, ensuring safety for employee.
Epoxy floor is easy to clean, saving repairing cost
Factory floor is not always cleaned continuously so the use of easy-to-clean floor covering material is what factory owners want. Epoxy paint with epoxy resin and hardener create thick covering membrane make finish surface becomes smooth, no connection circuit and easy to clean. Factories can easily clean by damp mopping using a neutral cleaner. For more heavily soiled areas an alkaline cleaner may be necessary followed by complete rinsing with clean water. Epoxy paint also increase concrete floor life from 3 – 5 years, helps factory to save repairing and maintenance costs.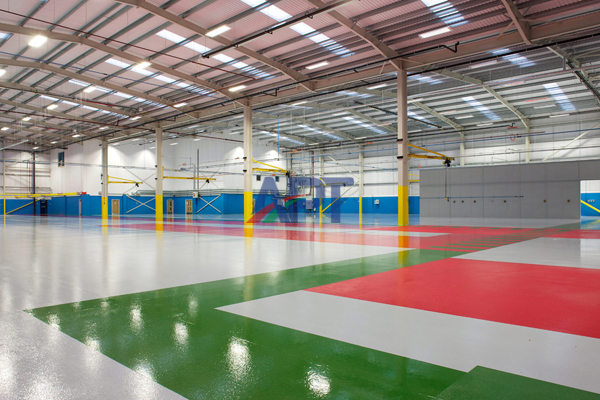 APT's epoxy paint products have high aesthetics
KERASEAL ADO121 is two component solvent and phenol free multi-purpose, gloss finishing, good wear and abrasion resistance, easy to apply, attractive color. KERASEAL ADO121 not only increase aesthetics for factory floor but is also solvent-free, safety during construction and later use.
KERASEAL ADO30 is self-leveling epoxy resin system. It has been designed to provide protection to new or old concrete floors in light to medium duty applications. This product has smooth finishing, bacteria resistance, easy to clean and good self-leveling ability.
KERASEAL ADO20 is two component solvent-based phenols, glossy finishing, no circuit so easy to clean and has high hygiene, attractive color.
APT is direct manufacturer, has been supplying products for many projects and factorie. When buying directly at the factory, customers will receive the best product and technical support. Contact APT immediately at Tel 0904 339 299 if you need more information about this product!