What makes APT's chemical resistant paint dominance?
APT's chemical resistant paint is a product highly estimated by many investors not only in the domestic market but also in foreign market. The product creates advantages in the market with strengths such as:
Diverse chemical resistant paint product
Each product has different advantages and uses, is suitable with each project.
KERAGUARD VL100 is epoxy novolac coating, 2-component, 100% solid, good chemical resistance for horizontal surface. It is suitable for floor surface construction.
KERAGUARD VR300 is epoxy vinyl ester resin, provides corrosion control to a wide variety acids and alkalis. It based on epoxy vinyl ester polymers reinforced with glass mat cloth so resistant to chemical at high temperature and concentration. This product provides a protection for concrete surface in chemical tank.
KERAGUARD ADG20 is polyurethane coating, 2-component, resistant to UV and does not lose color. The coating after completely full traffic is used to prevent the growth of microscopic organisms such as bacteria, fungus and other living plants. It is applied for traffic production areas, showroom floors, aircraft hangars, warehouses or other places where chemical resistance combined with light stability are important.
KERAGUARD ADG70 is a chemical resisant coal Tar modified, low solvent content based on epoxy resin. It is suitable for concrete and steel, especially in case of application onto damp surface, also has an internal and external coating for buried and submerged structures such as sewage system, chemical industry…
KERAGUARD ADG40 is 3-component polyurethane coating system. It provides a protection for concrete floor in medium to large duty application as well as areas that require improved performance over conventional resins system such as epoxy based. This system has good chemical resistance and high impact resistance. It is applied at a thickness of 3mm and above.
KERAGUARD ADG220 is a 2-component, chemical resistant epoxy coating system. It can be used as a coating over an epoxy mortar, as a repair surface epoxy. KERAGUARD ADG220 is also suitable for use where an antibacterial coating system is required in clean or food processing areas.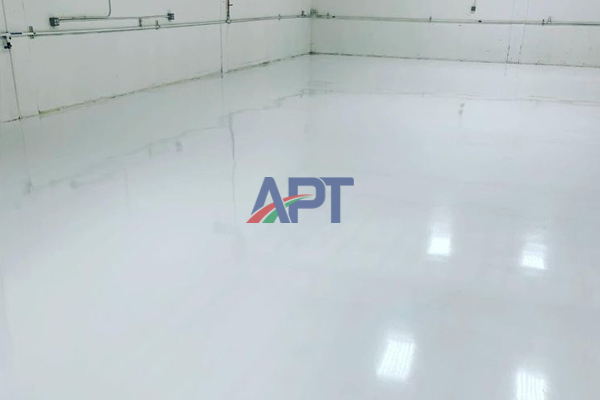 Reputable brand of epoxy paint and chemical resistant paint
With more than 10 years of establishment and development, APT is proud to be one of a few Vietnamese enterprises producing specialized epoxy paint products, meeting the needs of factories in industrial zones. Paint is present in industrial zones in 64 provinces and some countries in Southeast Asia such as Laos, Myanmar, Thailand…
Chemical paint products are continuously improved and developed, highly appreciated by many domestic and foreign investors. Chemical resistant paint is applied in many large projects such as Song Hau 1 Thermal Power Factory, O Mon Thermal Power Factory, Dung Quat Oil Refinery…
Dedicated consultation
Each product will resistant to chemical at different temperature and concentration. They are completely resistant to concentrated chemical at low temperature but may decompose when exposed to dilute concentration of the same chemical at higher temperature.
With over 3 years of experience consulting team, APT will provide you specific information about product. Evaluate actual surface quality and give the most suitable chemical resistant paint solution.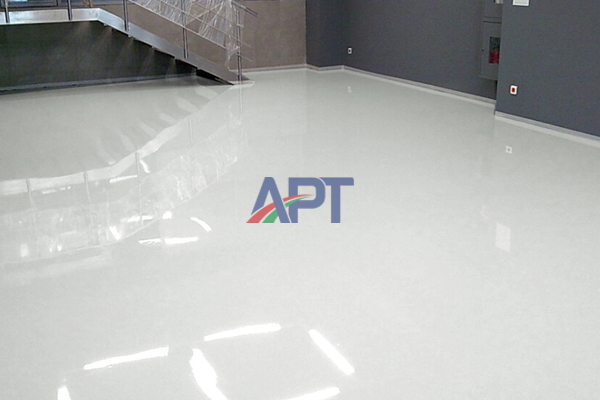 Technical support
Depend on chemical types, concrete, steel, iron conditions, construction process will have differences. But you can completely rest assured when receive advice and technical support during construction from us. Products ensure quality, cost saving and efficiency.
Connect with reputable, quality chemical resistant paint construction unit
Chemical resistant paint is difficult to apply more than normal epoxy paint products. When applying under tanks, construction conditions are harsh; the constructor needs to have highly skill.
APT will support you to connect with reputable, quality construction unit at a reasonable price.
Contact APT now for advice and choose the most suitable product for your project 0904 339 299!