Where to buy chemical corrosion resistant paint at good price?
Chemical corrosion resistant paint is one of the paint used a lot on steel and iron, concrete surfaces. But not all paints can be used for areas such as floor, chemical storage tanks. Understanding this, APT researched and developed specialized corrosion resistant epoxy paint. There are 2 corrosion resistant paints that are highly appreciated for their use, they are KERAGUARD VL100 and KERAGUARD VR300. So what are advantages of these 2 paint lines? What are the differences in their uses? Let's find out with APT in below article!
What are the advantages when buying epoxy paints of APT?
High aesthetics: With good adhesion, epoxy resin creates smooth surface more than other normally paints. Paint has thickness from 1-4mm.

Good wear and abrasion resistance: Completely overcome weakness such as scratch and crack of concrete floor. Epoxy paint has abrasion resistant ability up to 65mg/m2, wear resistant ability up to 64kg/cm2.

High antibacterial: The unconnected surface makes concrete floor easy to clean grease, dirt, even common chemicals and remain chemicals.

Long life, savings maintenance costs: Paint has good adhesion ability. Special, with self-leveling paint, thick coating and good wear ability, floor surface can maintain lifespan from 5-7 years. Fast maintenance, not much costs.
When buying non-genuine epoxy paints, what are problems that factories meet with?
APT's epoxy coating prices range from 100.000 – 400.000 VND/m2. But in fact, not all units sell genuine epoxy paints. If you do not choose genuine epoxy paint distributor, you will meet with some cases such as:
Outside is genuine paint sell, inside is fake paint
Reducing the paint volume: The volume of APT epoxy paint is usually packed is 23kg.
Out of date: Normally, storage time of epoxy paint is about 12 months. After this time, paint is easy to curing and difficult to use.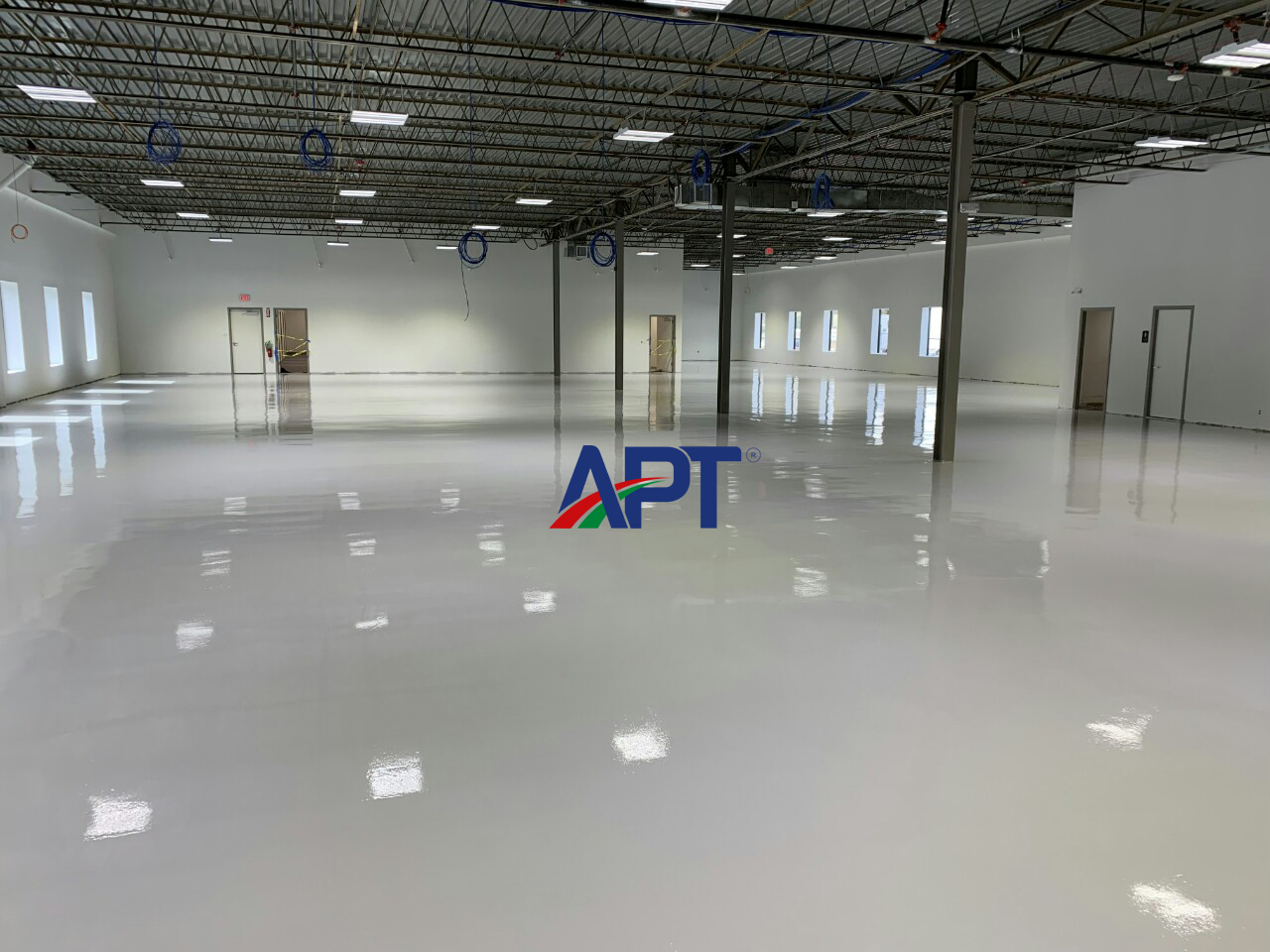 Where should buy APT epoxy paint with best price?
APT is the only unit official researching and developing this product. Investors, factories are totally comfortable when buying directly from us:
100% genuine product with the best price in the market.

The warehouse is continuous renewed.

Consulting and technical support during application.

Delivery and at the most convenience time for customers.

Packed with standard weights or according to customer requirement.

Support to find construction units with reasonable price.
For consulting and purchasing, investors, factories please contact APT Vietnam at phone number 0904 339 299! We are always ready to serve customers.