Why should choose water-based epoxy paint for construction projects?
Water-based epoxy paint is a two-component industrial paint with a solvent content is water, often used for concrete floors in display areas, stairs, basements and other pharmaceuticals, laboratories. Although was born after the traditional solvent-based paints, water-based epoxy paints are chosen by many investors and contractors. So what is the reason? Let find out with APT in the article below!
Water-based epoxy paint has less odor than solvent-based epoxy paint
VOCs are solid or liquid organic substances that can evaporate when contacted to atmospheric pressure at normal temperature. The lower the VOCs content, the faster the paint dries and the less odor it produces.
The concentration of VOCs in water-based epoxy paints is much lower than in solvent-based paints. Therefore, they create less unpleasant odors during construction, ensure environmental hygiene and do not affect the surrounding areas.
Water-based epoxy paint can be applied on high humidity concrete surface
Not all concrete floors can use industrial floor paint. In fact, there are many areas with quite high humidity such as basements, rooftops, stairs and walkways. Besides, the humid weather in the North also makes many investors and contractors pay attention.
But when water-based floor paints were introduced, they almost solved these problems. Concrete floors with high humidity can still be applied. Some water-based paints can also applied on floors with humidity up to 18%. Water-based paint allows the concrete to breathe, allowing the surface to be airy, eliminating the problem of flaking and blistering after construction.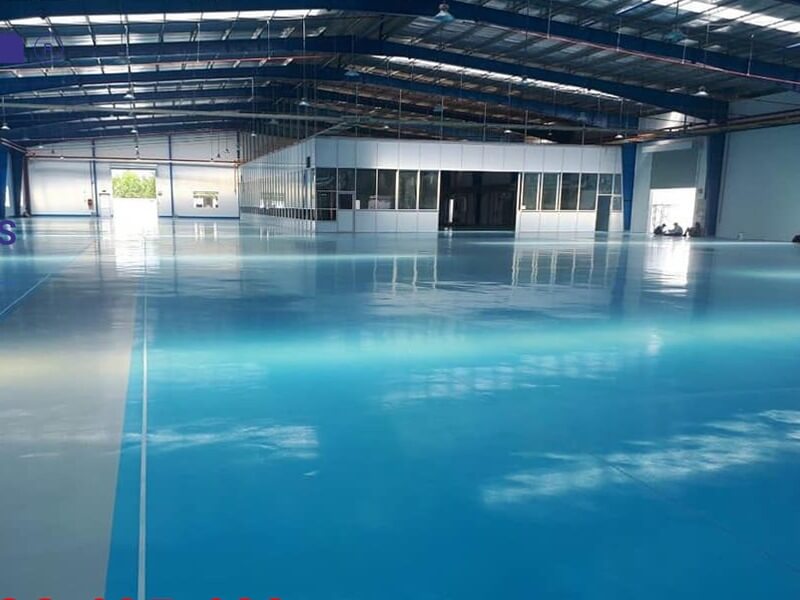 Some other advantages of water-based epoxy paint
Some other advantages of water-based paints are good adhesion, chemical resistance and high abrasion resistance. This helps the factories save a lot of costs and increase the lifespan of concrete floor.
Which water-based epoxy paint should the investor or contractor choose?
With 10 years of experience in the construction chemical industry, APT is proud to be the leading manufacturer and distributor of water-based epoxy paint in Vietnam. WB10, WB20, and WB40 are currently being used and highly appreciated by many factories.
We will bring to customers the best quality products with competitive prices. Do not hesitate to pick up the phone and call us on 0904 339 299 for free consultation and fast ordering!