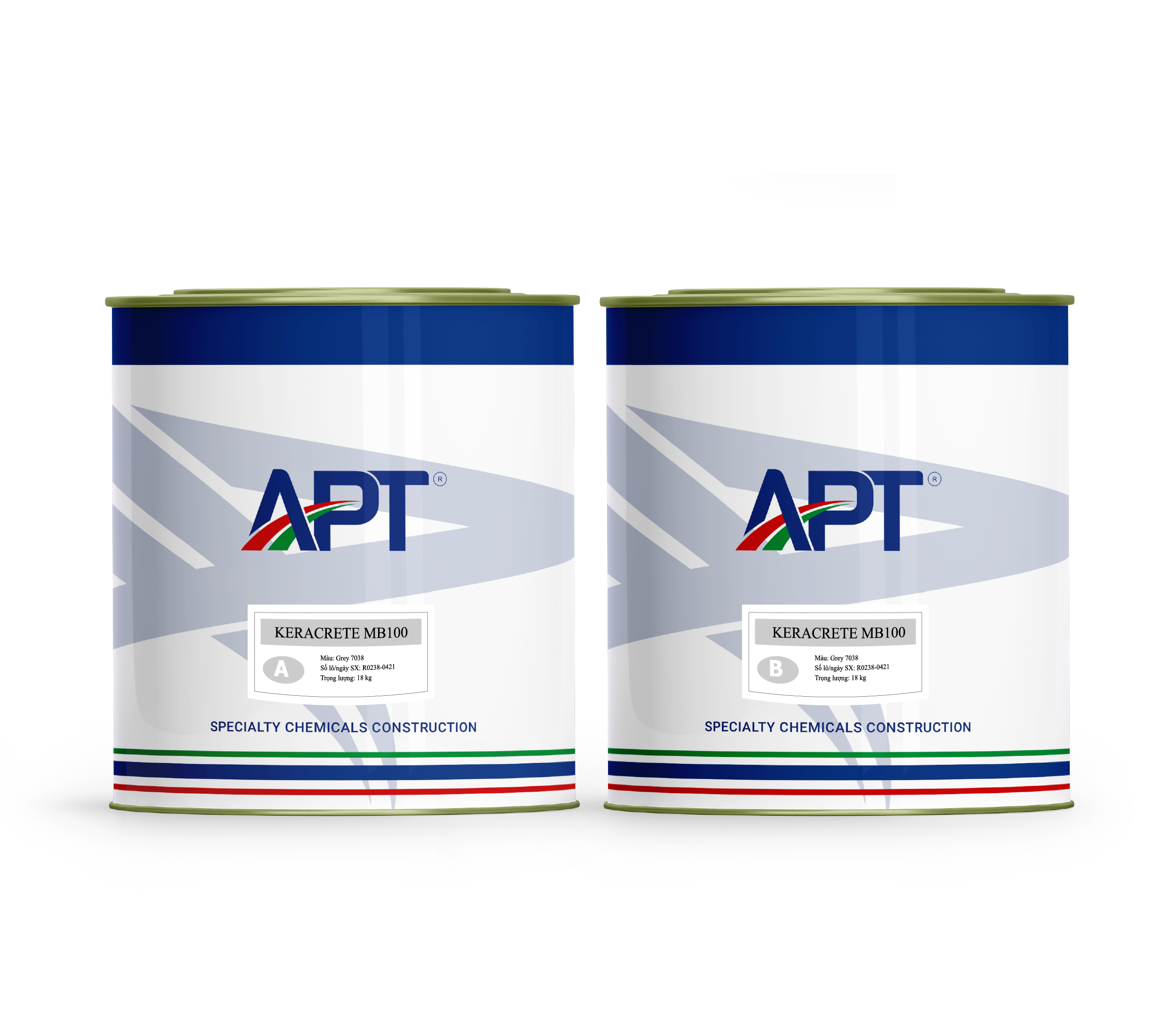 Moisture Barrier Underlayment for Resin Based Flooring System KERACRETE MB100
1. Negative waterproofing/ Easy to apply

Advantages:
- Eliminates Risk of Blistering
- Penetrates deep into the concrete pores
- Excellent Adhesion & Cohesive Strength
- Chemical Resistant
- Hairline Crack Resistance
- High Impact Resistance
- Easy & Fast to Apply
- Compatiable with KERACRETE Coatings
Product Information
KERACRETE MB100 is a three component water based epoxy composite underlayment for use with resin based coatings. Its function is to allow the application of resin based coatings onto green or damp concrete that would otherwise blister or require long curing times causing significant delays. The system is based on the latest generation of hybrid epoxy polymers in combination with hydraulically setting additives. When applied to suitable substrates KERACRETE MB100 reduces the initial high substrate moisture content of the concrete and allows the early fast track application of a resin coating or flooring systerm. The application thickness of KERACRETE MB100 is related to the residual moisture content of the concrete but is usually applied in the range of 1.5-2.0 mm and can be used to coat onto concrete substrates up a maxium moisture content of 22% when measured by a suitable moisture meter.
Packaging: KERACRETE MB100 is supplied as a three component 23kg pack, consisting of Part A&B liquid components and a Part C Powder Component.
Storage: Up to 6 months from date of manufacture when stored in original unopened containers in a cool dry place.
Application
- Damp & Green Concrete
- Wet Areas
- Industrial Floors
- Maintenance & Flooring Repairs
- Repair & Leveling before Waterproofing Installation
- Fast Track Installations
Construction conditions
- Substrate moisture content < 6%.
- Min. substrate temperature +13°C.
- Max. substrate temperature +39°C.
- Substrate temperature must be at least 3°C above dew point.
- Maximum relative air humidity 85%.
Contact
Ha Noi Branch
R1106, C2 – D'Capital – Tran Duy Hung Street, Trung Hoa ward, Ha Noi City
Email:
saleshn@apt.net.vn
Ho Chi Minh Branch
647/18A, Highway 13, Hiep Binh Phuoc ward, Ho Chi Minh City
Email: saleshcm@apt.net.vn

Product construction process
OTHER PRODUCTS SAME TYPE
| | | |
| --- | --- | --- |
| | Moisture Barrier Underlayment for Resin Based Flooring System KERACRETE MB50 | View more |
| | Alkyd primer PRIMER SEAL COAT | View more |
| | Heat resistant primer PRIMER COOL COAT | View more |
| | Water-based Polyurethane Waterproofing KERACRETE ADF200 | View more |
| | Acrylic Cementitious Highly Flexible Waterproofing Membrane KERACRETE ADF100 | View more |
| | Heat resistant and waterproof coating KERA COOL COAT | View more |