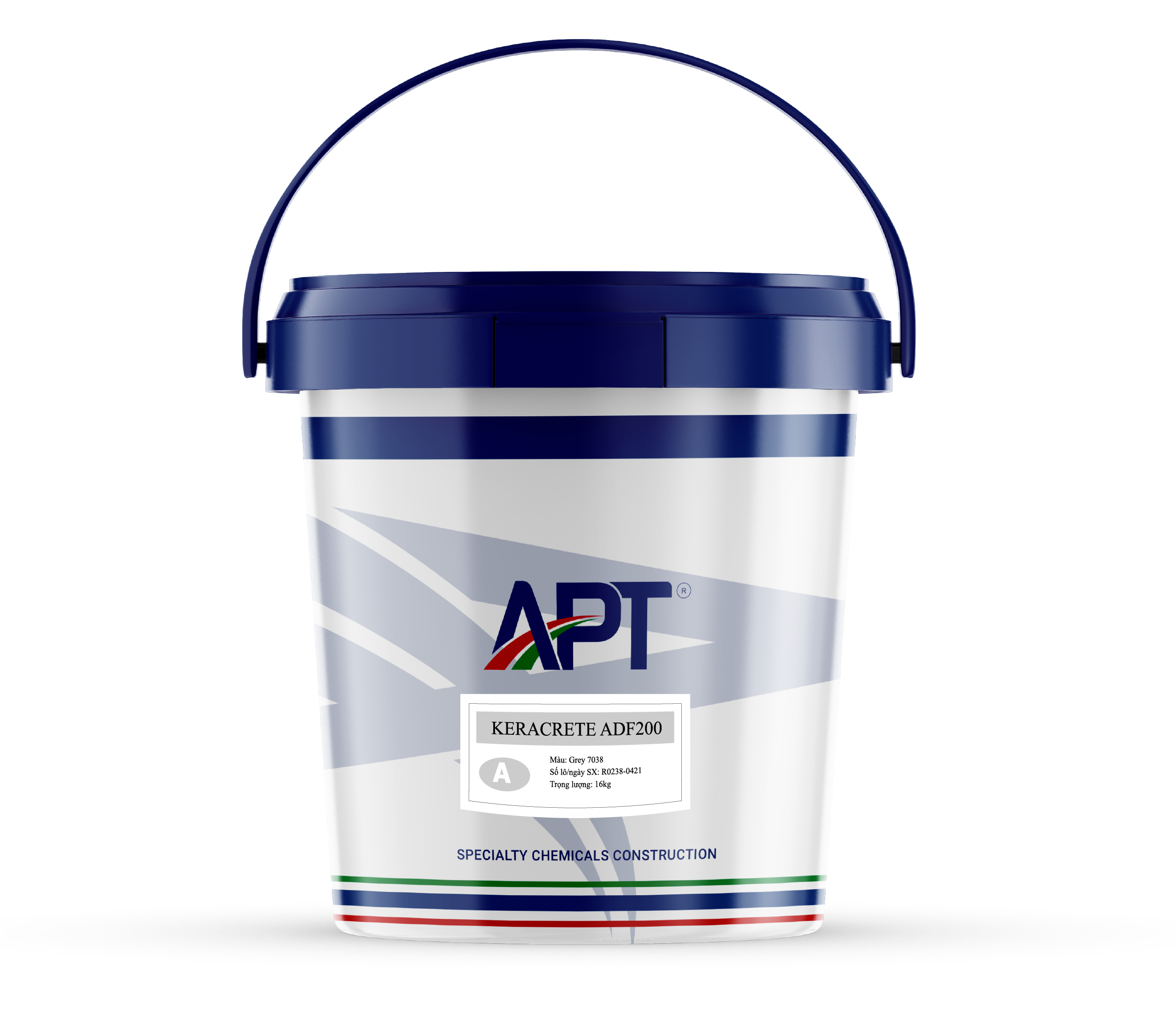 Water-based Polyurethane Waterproofing KERACRETE ADF200
1. Waterproofing/ Resistant to UV/ High elasticity

Advantages:
- Resistant to cracking and continuous waterproofing.
- Resistant to UV and chemical attack.
- Good adhesion, high elasticity.
- Solid structure material.
- Easy to apply, long lifespan, reduce maintenance costs.
Product Information
KERACRETE ADF200 is single component water-based Polyurethane waterproofing system. It is applied the coating serves to protect concrete roof, wall from the negative effects of water, moisture and UV resistant. KERACRETE ADF200 is available in grey color. It is suitable for use on a variety of construction materials, including concrete mortars, brick wall
Packaging: KERACRETE ADF200 is supplied in 5kg/pail or 16kg/pail
Storage: 6 months from date of manufacture, when be stored correctly in original packaging, avoid sunshine; temperature from 20 - 40°C.
Application
- Roof, terrace, balcony, loggia, external walls.
- Water storage tank, swimming pool, fire tank.
- Prevent water for outside of underground tank.
- Wastewater sewerage system.
- Transport work, irrigation, hydroelectricity
Construction conditions
- Substrate moisture content < 6%.
- Min. substrate temperature +13°C.
- Max. substrate temperature +39°C.
- Substrate temperature must be at least 3°C above dew point.
- Maximum relative air humidity 85%.
Contact
Ha Noi Branch
R1106, C2 – D'Capital – Tran Duy Hung Street, Trung Hoa ward, Ha Noi City
Email:
saleshn@apt.net.vn
Ho Chi Minh Branch
647/18A, Highway 13, Hiep Binh Phuoc ward, Ho Chi Minh City
Email: saleshcm@apt.net.vn

Product construction process
OTHER PRODUCTS SAME TYPE
| | | |
| --- | --- | --- |
| | Moisture Barrier Underlayment for Resin Based Flooring System KERACRETE MB50 | View more |
| | Alkyd primer PRIMER SEAL COAT | View more |
| | Heat resistant primer PRIMER COOL COAT | View more |
| | Acrylic Cementitious Highly Flexible Waterproofing Membrane KERACRETE ADF100 | View more |
| | Moisture Barrier Underlayment for Resin Based Flooring System KERACRETE MB100 | View more |
| | Heat resistant and waterproof coating KERA COOL COAT | View more |