What are differences between epoxy paint and paint contain epoxy component?
The product diverse on the market is an opportunity to help businesses easily find a concerte floor protection solution. But it does not mean that every product meets the required standards. If you do not choose carefully, you can easily use unknown origin products. In this article, APT will help you a clear understand about epoxy paint product and how to choose the best epoxy paint.
What is epoxy paint?
Epoxy coating is a combination of epoxy resin and polyamine hardener. When the paint is cured, epoxy paint layer has chemical bond and create a solid protection layer. Surface resistants to chemical abrasion, oil, easy to clean and has high aesthetics.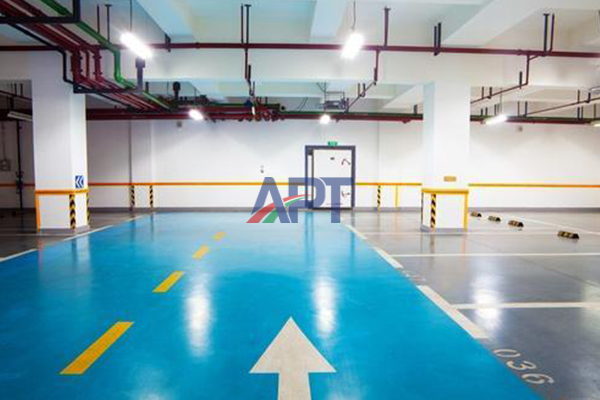 The differences between epoxy paint and paint contains epoxy component
Some manufacturers supply paints that are mixed with epoxy resin. But in fact, they only have one component. Although paint has better adhesion and durability than normal paints, but they still do not achieve characteristic of a true epoxy coating.
How to find a quality epoxy paint product?
High solid content
The solid percentage of your epoxy coating is a factor detemines the durability and productivity of floor coating. Because the higher of solid percentage that the epoxy coating has, the the closer the chemical connection of molecules in resin. Epoxy coating is thick and has high antibateria. Therefore, you should carefully consider solid content in the product's specification before choosing.
Coating thickness
Epoxy paint has thickness from 1mm – 3mm, due to types of paint. Therefore, you should consider about construction process, as well as coating system are designed by manufacturer. With 1-component paint lines, contain epoxy, the paint membrane is thinner and easier to abrade. Construction process is simple but does not bring high efficiency during use.
Prestigious brand
Finding a reputable brand is a smart choice. Because you will not spend too much time to learn. Consultant team will give you the best answer, saving costs and bring high effiency.
What types of epoxy paint are there?
Each type of epoxy paint has its own properties. Your choice depends on your requirements and expectation about activities of floor surface after construction. Here are some epoxy paints on the market you need to know:
Solvent-free epoxy paint: is 2-component epoxy paint, 100% solid content. Product provides protection to floor surface in light to medium duty application.
See more: Solvent-free epoxy paint KERASEAL ADO121
Self-leveling epoxy paint: Paint can cover defects on the floor surface with high durability, good chemical resistance. 100% solid content helps paint has high glossy. They are the popular choice in industry and commerce include cleanrooms, laboratories, garages and showroom.
See more: Self-leveling epoxy paint KERASEAL ADO40
Novolac epoxy paint: is a popular choice solvent, chemical storage facilities; floor which need to be maintained durability in crowed traffic conditions, often contacted to dropped chemicals.
See more: Epoxy Novolac coating system KERAGUARD VL100
Anti-static epoxy paint: is designed to protect for concrete surfaces, meets the EOS/ESD standards with smooth surface, high wear and abrasion resistance, chemical resistance. Paint is often applied at electronic components manufacturers, aircraft assembly and maintenance…
See more: Anti-static epoxy paint KERACOTE ESP300
Water-based epoxy paint to create breathable membrane for concrete is designed to protect wet concrete surface, glossy finish and high chemical resistance with low VOC content. Paint is applied for high humidity areas.
See more: Water-based epoxy paint KERASEAL WB10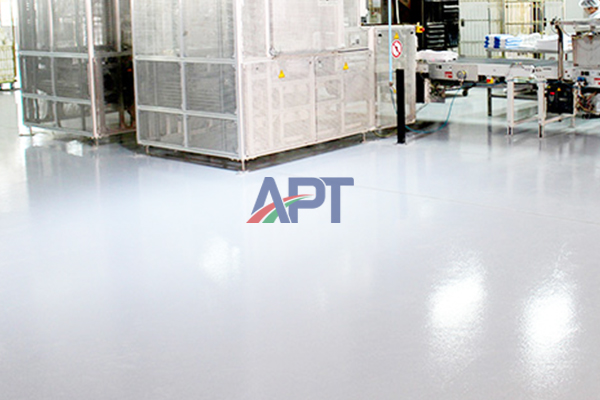 Some APT epoxy paint products are highly appreciated
KERASEAL ADO121 is a two component solvent and phenol free. It has been designed to provide protection to floor surfaces in light to medium duty application. Do not peel off the paint membrane when removing the shape tape.
KERASEAL ADO30 is self-leveling epoxy coating system. It has been designed to provide protection to new or old floors in light to medium duty applications.
KERAGUARD VL100 is Epoxy Novolac Coating, a two component, 100% solids, highly chemical resistant epoxy coating for horizontal applications. KERAGUARD VL100 has excellent flowability and is highly effective for both steel and concrete applications.
KERACOTE ESP300 is a two component self-leveling epoxy resin based system for producing Conductive or Dissipative floors to provide protection to concrete floors in light to medium duty applications.
KERASEAL WB10 is excellent in breathable coating system, it used in the high moisture areas.
For advice and free samples, contact APT immediately at Tel 0904 339 299!