ဆေးသုတ်ထုတ်ကုန် KERASEAL WB10 မိတ်ဆက်
The weather in the North is usually quite high humidity. Therefore, many investors are worry about the adhesion of the paint. But the appearance of KERASEAL WB10 on the market has become the optimal solution, completely solving this situation. So what is the KERASEAL WB10? Let APT learn about their advantages in the article below!
Advantages of water-based epoxy coating KERASEAL WB10
One of the reasons makes epoxy floor sloughing is the high humidity in the concrete. Steam cannot pass through the epoxy coating, so if the floor gets wet on any of the lower parts the moisture will accumulate, causing hydrostatic pressure, creating enough force to lift epoxy coating rising the previous surface and causes epoxy coating to peel off.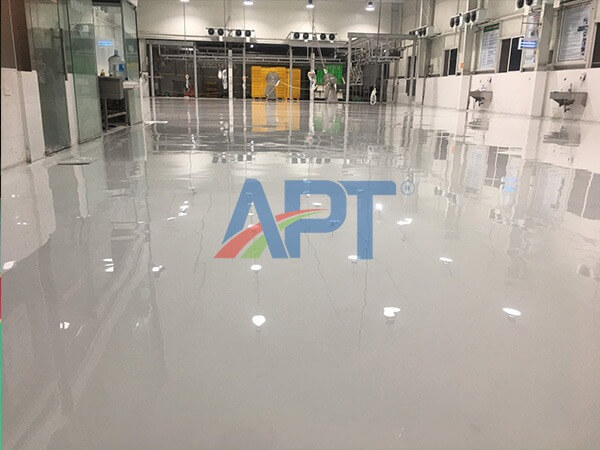 Other water-based paint systems have the moisture content of
KERASEAL WB10 is a water-based, special protection epoxy floor coating with a low VOC formulation for fast drying, friendly with the environment. It has hard painted surface, glossy surface to conceal defects for concrete surface. KERASEAL WB10 is an excellent coating system that allows concrete surfaces to breathe, making it suitable for use in areas with high humidity.
08 areas that can apply water-based paint KERASEAL WB10
Food and beverage production area

Exhibition room

Other pharmaceutical, medical and laboratory areas

Roof floor

Warehouse, garage, basement

Stairs and paths

Old and new concrete
Investors need advice for epoxy paint, please contact APT Vietnam
Factory: Zone 2, Phu Minh Commune, Soc Son, Hanoi.
Hanoi Office: Room 1106 – C2, D' Capital Tran Duy Hung, Hanoi
HCM Office: 647/18A, Highway 13, Hiep Binh Phuoc Ward, Thu Duc, HCM City
Hotline: 0904 339 299