epoxy ကြမ်းပြင်ဆေးသုတ်ပြီးနောက် 5 မှတ်စု
Epoxy floor paint is known as a very good concrete floor protection product with antibacterial, abrasion resistance and chemical resistance. However, when the construction is completed and put into use, the factory still needs to note the following:
Curing time of epoxy paint
| | | | |
| --- | --- | --- | --- |
| Temp | Walking | Light traffic | Full traffic |
| +10°C | 24h | 3 days | 10 days |
| +20°C | 18h | 2 days | 7 days |
| +30°C | 12h | 1 days | 5 days |
The repairing time of the painted surface after apply epoxy paint
Paint takes at least 5 days to dry completely. During that time, epoxy floor can still be repaired. The phenomena of blistering, peeling should be discovered and immediately reported to the construction unit to repair in time. The factories should not repair the floor surface by themselves, affecting the quality of construction project.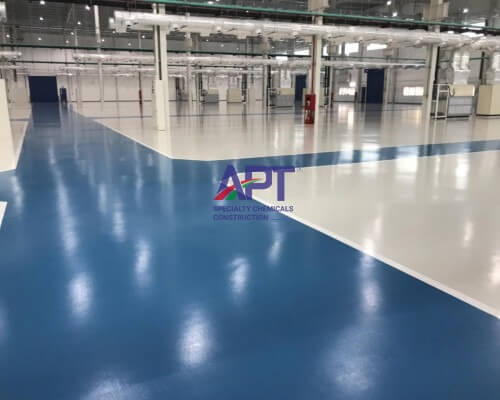 Pay attention to clean the epoxy floor
After finishing and begin into use, epoxy floor is very easy to be abraded by grease, dirt from goods, materials, machinery and equipment in the factory. Therefore, epoxy floors should be cleaned with a wet towel on a regular basis. For heavily soiled areas it is possible to use rinsing with clean water. Do not use any other chemicals to clean the floor because they can interact, causing peeling, change the paint color.
Do not use sharp things on epoxy floor surface
Sandpaper or sharp things that can easily damage epoxy flooring. Scratches are the conditions for dirt, grease to penetrate the floor surface, easy to abrade and remove the paint quickly. To overcome this, during the first period of use, the factory should spread more surface protection.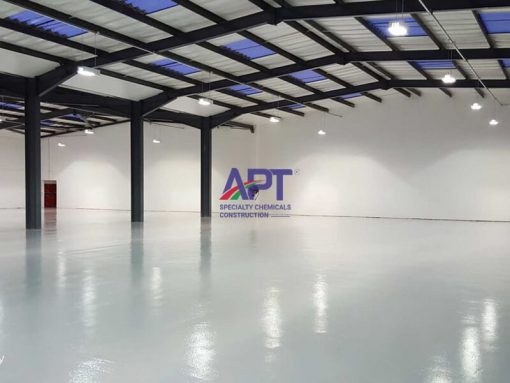 The maintenance time of epoxy floor paint
The use time for epoxy coating system is 3-4 years and the use time of self-leveling epoxy paint is from 5 to 6 years. After this time, the factory should do maintenance again. With self-leveling coating systems, the factory only needs to use 1 topcoat to re-use as new.
To get direct advice from APT Vietnam about industrial floor coating products, investors and contractors please contact phone number 0904 339 299!