KERASEAL ADO121 Epoxy သုတ်ဆေးတွင်ခံနိုင်ရည်အားကောင်းပြီးပွန်းပဲ့မှုဒဏ်ခံနိုင်ရည်ရှိသည်
Factory floors are often subjected to influence, movement of people, the impact of machinery, goods or movement of forklifts impacting the floor surface. Because of the great pressure, the floor is easy to cracking, abrasion affecting to the life of building and production activities. KERASEAL ADO121 is a construction solution to help the floor surface more solid, to reinforce and protect concrete surface from the above problems.
Features of KERASEAL ADO121
KERASEAL ADO121 coating system is epoxy resin based compound without ester so it is water resistant and has good adhesion on all materials such as concrete, iron, steel… The molecule structure includes 2 solid and difficult to break by heat benzene circles so it has good heat resistance, hard and tough. So when apply this coating on the concrete surface, the floor can bearing the load better.
Furthermore, this paint line has abrasion resistance ability up to 1.71mg/cm2 to protect and increase the life of floor, minimizing the impact of factors which causes the abrasion of the floor.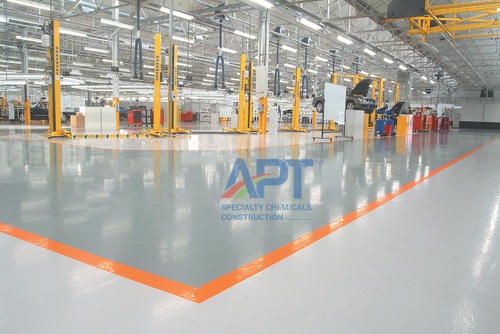 5 suitable floors with KERASEAL ADO121
Food and beverage production.

Showrooms and decoration areas.

Engineering production and aircraft maintenance.

Warehouses.
SOVENT FREE EPOXY COATING KERASEAL ADO121 – the right choice to protect factory floor!
Investors need advice about epoxy paint, please contact APT Vietnam:
Factory: Zone 2, Phu Minh Commune, Soc Son District, Noi Bai, Hanoi.
Hanoi Office: Room 1106 – C2, D'Capital Tran Duy Hung, Hanoi.
HCM Office: 647 / 18A, Highway 13, Hiep Binh Phuoc Ward, Thu Duc District, HCM.
Hotline: 0904 339 299.