Self-leveling epoxy coating-ကွန်ကရစ်ကြမ်းပြင်အတွက်အကောင်းဆုံးဖြေရှင်းချက်
On the market today, self-leveling epoxy paints are known as high cost floor paint product and quality is better than normally coating paints. But few people know that paint is also known as the optimal solution to protect concrete floor for special areas such as clean rooms, laboratories in food factories, hospital… So what did self-leveling epoxy paint scored in these areas? How to apply? What should the constructor need to pay attention during application? Let's find out with APT in the article below!
Advantages of self-leveling epoxy paint in clean room area
Thickness is from 1 – 5mm, making the surface hard and having good wear and abrasion resistance.

Adhesion is about 4.24 MPa. Excellent adhesion ability, maintain floor life from 6 – 10 years.

Special: With the composition of epoxy resin with good adhesion ability to create a smooth and no circuit surface, self-leveling epoxy paint with high antibacterial, suitable for clean room areas, laboratories.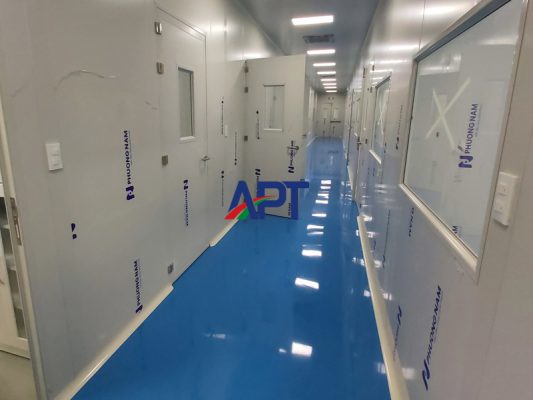 Application process of self-leveling epoxy paint
Step 1: Surface preparation.

Step 2: Patching and handling surface.

Step 3: Applying the primer.

Step 4: Applying the base coat.

Step 5: Applying the top coat.
5 notes during self-leveling paint construction process
Although there is a lot of outstanding strength, in order to construct, the constructor needs to have high technical level. In addition, construction process should ensure the following factors:
Concrete has moisture resistant nylon layer, humidity of concrete floor < 6%.

Mixing according to the mixing ratio required by the manufacturer.

Apply quickly, continuous coats to ensure uniform paint color.

Should not apply self-leveling epoxy paint at night because of insects.

Should use spiked roller to break air bubbles during construction.
APT Vietnam a supplier of quality self-leveling epoxy paint
Nowadays, the self-leveling paint market is diversified. With reasonable price and stable quality, APT's KERASEAL ADO40 is one of the top self-leveling paint. Products are presented in small and big projects across the country.
APT believes that customer will be satisfied with our enthusiastic consultation and technical support. In addition, when purchasing from APT, customer will be introduced to the suitable construction units with competitive price from manufacturer.
For free consultation & free sample, please contact APT immediately at 0904 339 299!