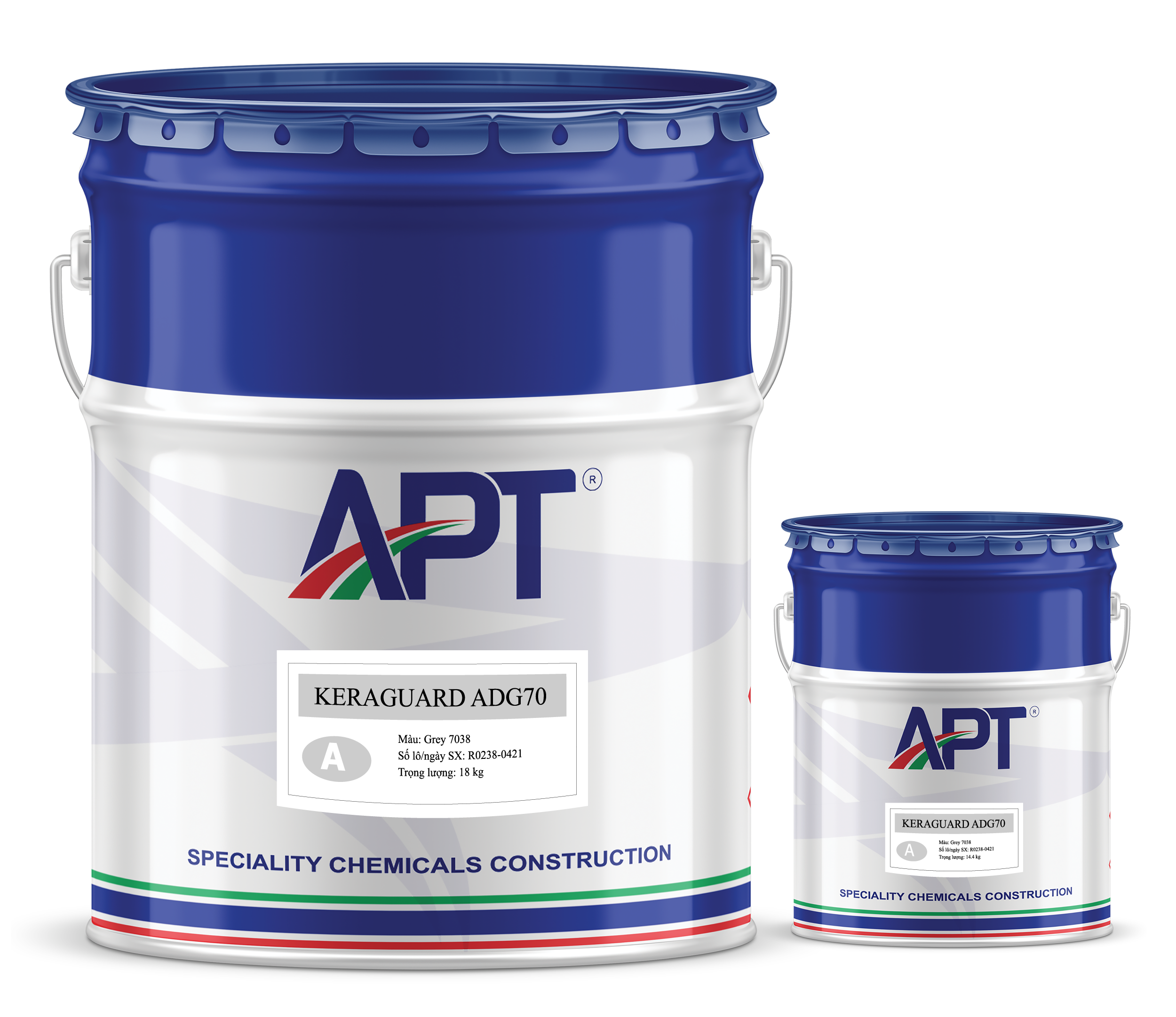 Chemical resistant coal tar epoxy coating KERAGUARD ADG70
1. Chemical resistance/ Easy to apply/ Low maintenance cost

Advantages:
KERAGUARD ADG70 is resistant to water, seawater, barnacles, diluted acids and lyes, neutral salts, mineral and heating oils, rich oils, detergents etc. Not resistant to longer exposure to benzene – hydrocarbons and tar oil. Good use for iron and steel surface.
Product Information
KERAGUARD ADG70 is a chemical resistant coal tar modified, low solvent content based on epoxy resin. It is suitable for concrete and steel, especially in case of application onto damp surfaces; also as an internal and external coating for buried and submerged structures, e.g. sewage systems, chemical industry…
Packaging: KERAGUARD ADG70 is supplied in 10 kg per set.
Storage: 12 months from date of manufacture, when be stored correctly in original packaging.
Application
- Waste water tanks & collectors
- Steel & concrete pipes
- Saline immersed structures
- Acid resistant membranes
- Not suitable for surfaces in contact with drink ing water, housing, stables
Construction conditions
- Substrate moisture content < 6%.
- Min. substrate temperature +13°C.
- Max. substrate temperature +39°C.
- Substrate temperature must be at least 3°C above dew point.
- Maximum relative air humidity 85%.
Contact
Ha Noi Branch
R1106, C2 – D'Capital – Tran Duy Hung Street, Trung Hoa ward, Ha Noi City
Email:
saleshn@apt.net.vn
Ho Chi Minh Branch
647/18A, Highway 13, Hiep Binh Phuoc ward, Ho Chi Minh City
Email: saleshcm@apt.net.vn

Product construction process
OTHER PRODUCTS SAME TYPE
| | | |
| --- | --- | --- |
| | Epoxy novolac coating system KERAGUARD VL100 | View more |
| | Chemical resistant epoxy coating system KERAGUARD ADG220 | View more |
| | Vinyl ester penetrating primer KERASEAL PS100 | View more |
| | Polyurethane UV resistant coating KERAGUARD ADG20 | View more |
| | Polyurethane medium duty floor mortar system KERAGUARD ADG40 | View more |
| | Vinyl ester heavy duty chemical resistant lining system KERAGUARD VR300 | View more |