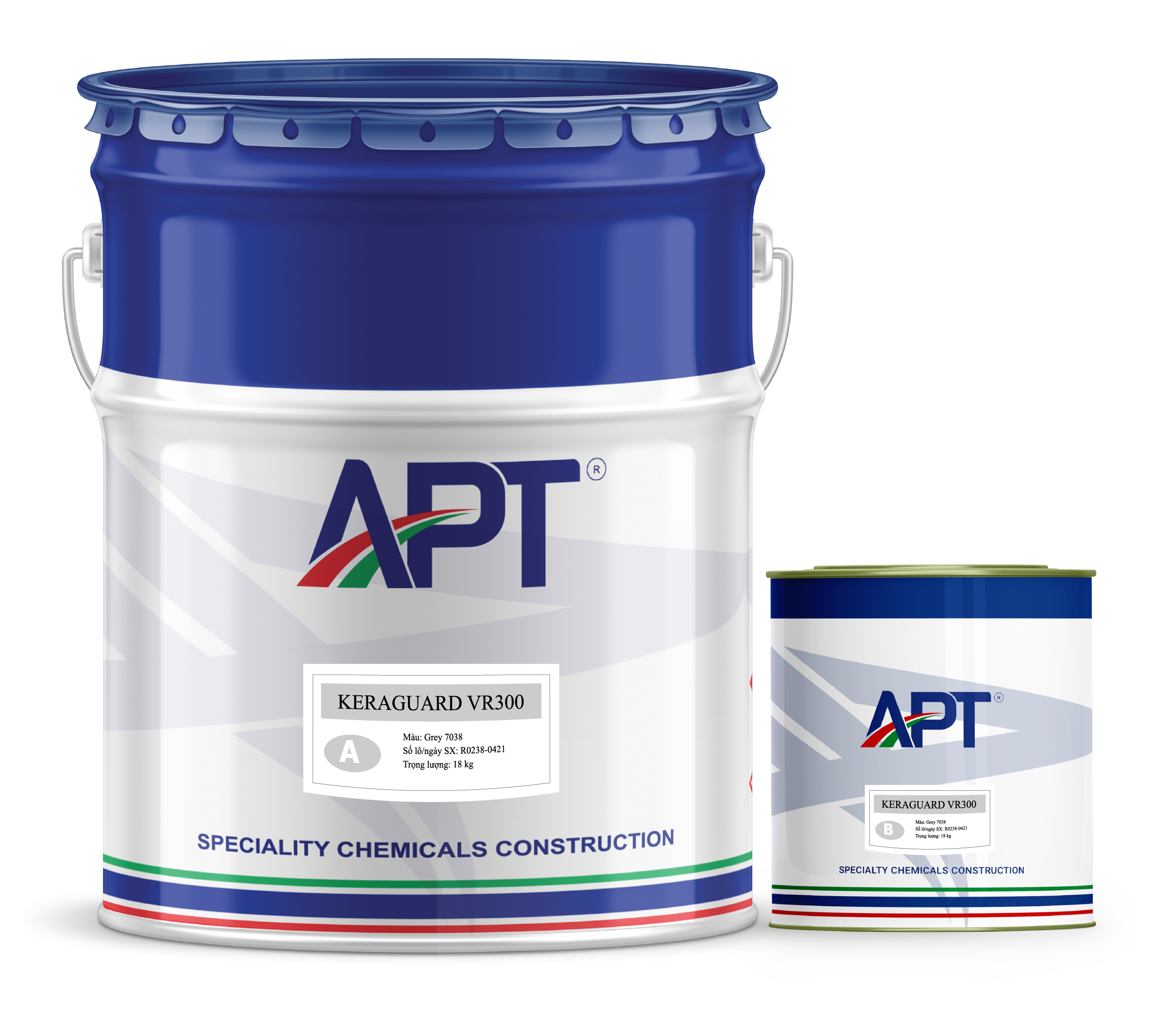 Vinyl ester heavy duty chemical resistant lining system KERAGUARD VR300
1. High temperature chemical resistance/ Good anti-corrosion

Advantages:
- Very good high temperature stability
- Resistant to wide variety of corrosives
- Produces durable high chemical resistant laminates
- Long term protection against a wide range of chemicals
- Excellent adhesion to concrete and steel
Product Information
KERAGUARD VR300 is epoxy vinyl ester resin. It provides corrosion control to a wide variety acids and alkalis. It is a highly chemical resistant lining system based on epoxy vinyl ester polymers reinforced with glass fiber cloth. The resultant lining cures rapidly to provide a hard dense protective barrier to highly aggressive chemicals for most heavy duty applications.
Packaging: KERAGUARD VR300 is available in 20kg/pail
Storage: Store in a cool, dry and covered location away from fire hazards and direct sunlight. Maximum shelf life at 21°C for KERAGUARD VR300 is 6 months. Higher temperatures will shorten the shelf life of these products.
Application
- Chemical manufacturing
- Water and chemical storage tanks
- Chemical storage
- Food & beverage Production
- Tank farm retaining walls
Construction conditions
- Substrate moisture content < 6%.
- Min. substrate temperature +13°C.
- Max. substrate temperature +39°C.
- Substrate temperature must be at least 3°C above dew point.
- Maximum relative air humidity 85%.
Contact
Ha Noi Branch
R1106, C2 – D'Capital – Tran Duy Hung Street, Trung Hoa ward, Ha Noi City
Email:
saleshn@apt.net.vn
Ho Chi Minh Branch
647/18A, Highway 13, Hiep Binh Phuoc ward, Ho Chi Minh City
Email: saleshcm@apt.net.vn

Product construction process
OTHER PRODUCTS SAME TYPE
| | | |
| --- | --- | --- |
| | Chemical resistant coal tar epoxy coating KERAGUARD ADG70 | View more |
| | Epoxy novolac coating system KERAGUARD VL100 | View more |
| | Chemical resistant epoxy coating system KERAGUARD ADG220 | View more |
| | Vinyl ester penetrating primer KERASEAL PS100 | View more |
| | Polyurethane UV resistant coating KERAGUARD ADG20 | View more |
| | Polyurethane medium duty floor mortar system KERAGUARD ADG40 | View more |